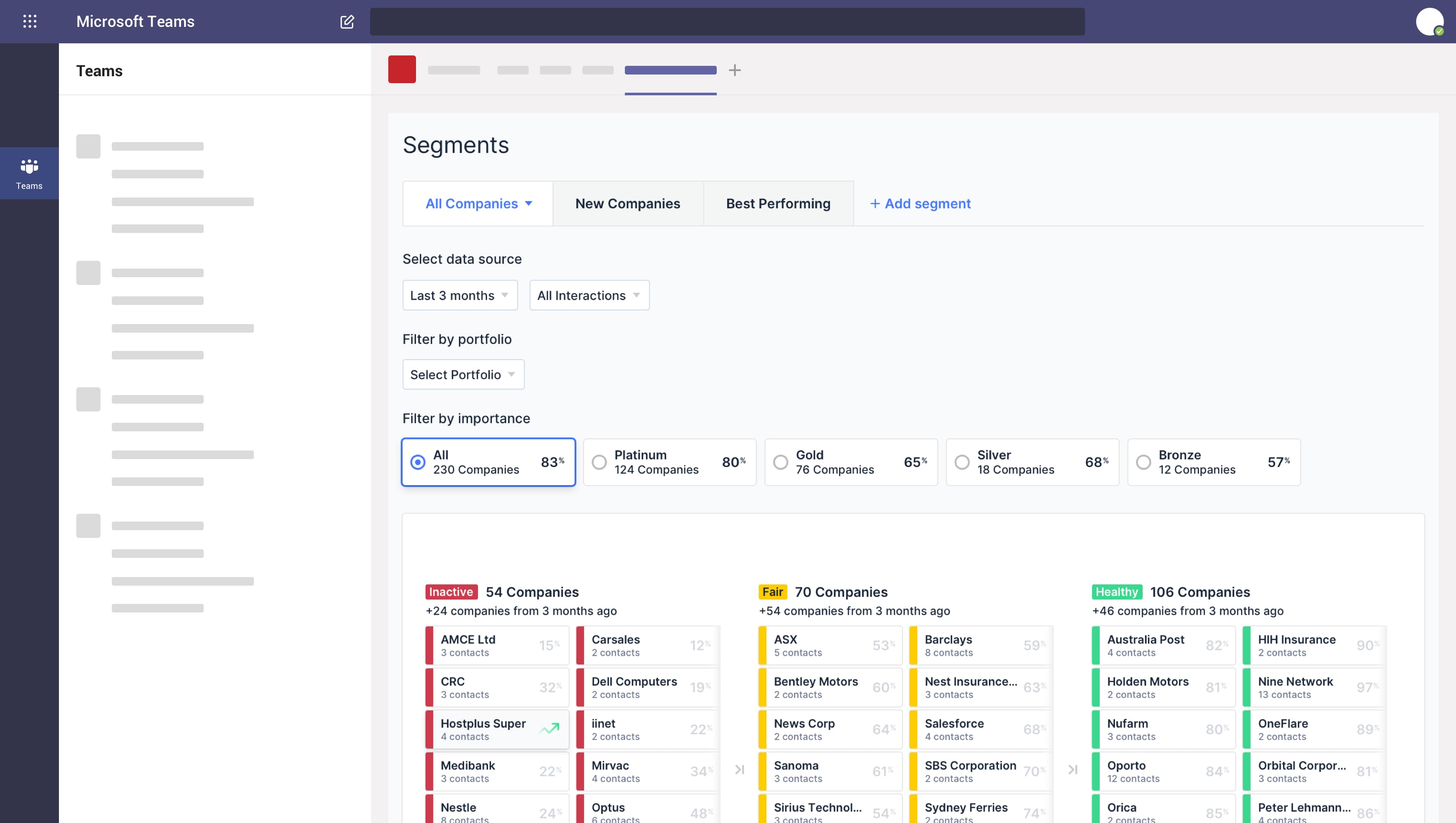 Date, Title and Categories will appear here when published.
Why MSPs should segment their customer base
In uncertain times, client retention becomes critical. But proactively tracking and managing relationships with customers outside of support queries can seem overwhelming, unstructured and unprofitable.
As an MSP you understand your important customers require different levels of service. When it comes to relationship management, segmenting customers based on their service needs can help structure your data. This makes engaging your most important customers easier and more effective.
What is segmentation?
Segmentation is the process of grouping together target customers based on similar and shared characteristics relevant to your business.
Why segment your customers?
In the midst of massive channel growth, we've seen MSPs cater to a diverse set of customers with different needs, which all require different levels of service from your team.
When it comes to measuring sales & account management activity, creating segments of customers can help you visualise where you are spending your time, and understand where you should be spending your time.
Business owners love feeling loved. Segmenting the decision makers from your customers and anticipating the wants of these decision makers can go a long way to retaining happy customers - and making a sale!
Segmentation approaches:
Here are 4 simple segmentation approaches to make sure you identify your most important customers, and prioritise your time spent with them.
Approach 1: Prospect vs Client
Differentiate between your prospects and existing clients.
Why?
You can compare how engaged you are with existing and potential customers.
By understanding whether your team are spending more time 'hunting' for new business, or 'farming' existing accounts, you can set goals or KPIs to align behaviour to your sales strategy.
Approach 2: Industry/subindustry segments
Segment your customers based on their industry.
Why?
Different industries will likely require different products and level of service. In comparing how engaged you are across industries, this can help you plan where to focus your time and tailor your marketing messages, depending on what products you have to offer.
For example, it is known that customers in financial services buy data protection solutions, you can use that industry segment as a target list of who to offer that product to next.
Customising your offering based on an industry's needs and expectations will result in higher quality inbound interest in the product.
Approach 3: Historical revenue
Identify and categorise your customers based on their overall contribution to your revenue.
Why?
In taking the time to identify your most critical customers based on revenue contribution, you can focus your efforts on keeping those customers engaged. This can not only reduce churn but increase the likelihood of upsell/cross selling.
By creating a segment of your most critical customers, you can unearth customers that weren't engaged in the past. Once you discover this, setting engagement goals for these accounts, and reducing time spent on the less lucrative accounts can help your sale team increase win rate, reduce churn and hit KPIs.
Approach 4: Buying characteristics
Segment customers based on which products they buy from you and/or if they are a managed service customer.
Why?
This can help you predict future purchase patterns. Knowing that certain customers are more likely to purchase other products based on past purchases helps with both marketing and sales strategy.
Also, similar to the segments based on profitability, you can also make sure you are more highly engaged with your customers who have a higher spend on your products or managed services.
In addition to this, segmentation can reveal what kinds of incentives and products are most popular. For instance, you may find that some clients care most about your cybersecurity offerings while others are willing to spend more on your managed services program.
Approach 5: Role type
A segment of decision makers in your most important prospective accounts and in your most profitable current accounts.
Why?
Building loyal relationships with people who influence the outcome of your sales involves understanding the customers' expectations – this is best achieved through consistent and meaningful engagement.
This segment can act as a list of people who, if highly enough engaged, will be responsible for your clients choosing your business over the competition.
How to track and measure engagement with segments:
As an MSP, you likely have all these customer characteristics in a PSA tool like ConnectWise. However, activity data is often incomplete and requires manual effort to maintain.
At BeeCastle, we built integration for ConnectWise to help you automate activity tracking and easily segment based on your customer information.
BeeCastle allows you to import and sync in real-time your customer information from ConnectWise. Your Microsoft 365 data is then mapped and synced against your customer information to give you real-time activity data, with NO manual logging.
BeeCastle's clean interface makes it easy to filter your ConnectWise data to create segments based on characteristics like Market, Company Type, Territory and Status.
With your Microsoft 365 activity data syncing automatically, BeeCastle makes tracking your engagement across your customer segments automated and effortless.
Coming soon…
Dashboards to help you identify 'white-space' – what key accounts are ripe targets for upsell & cross-sell based on relationship status & product spend?
If you are an MSP looking to track and measure activity across customer segments, or if you want to be part of our pilot program for the new white space dashboards visit BeeCastle.com to sign up for a free trial or contact our experts at 1300 233 227.